Click here for schedule of festival activities.
For more information about activities email the
Rockbridge Festival.


ADMISSION FEE:
$60 per person includes camping both Friday and Saturday nights

Day rate: $20/per person

There are approx. 100 hook-up sites, and the majority of campers are in tents. Sorry but we are unable to take reservations for campsites. Come early to assure your hook-up. No running generators allowed.

You're welcome to arrive earlier in the week but you must pay at the park office for camping: $25 plus tax per night for each tent site, $35 for hook-up sites. Festival staff will come around to collect your festival camping and admission fee on Friday morning. We will gladly accept a donation to the festival effort too.
Volunteers needed in exchange for admission and camping. Please email request to fincastlegil@gmail.com
SEE FEST PHOTOS AND VIDEOS,
plus a map, area lodging and kennel info.
Thanks to Dan Peck, Jodi White,
Dennis Slifer and others for the photos in this site.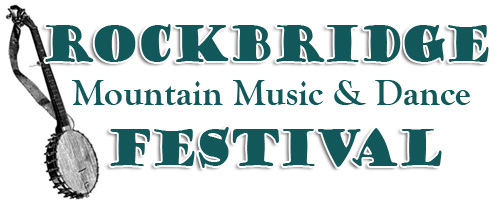 The Rockbridge Mountain Music & Dance Festival is not your usual festival. There's no contest and no fancy line-up of big-name acts. No crowds. No pressure to arrive early to get a spot because there is plenty of room!
Beloved musician Mike Seeger had a vision for Glen Maury Park: hold a mountain music festival that featured dancing and no playing contests. So he got the festival off the ground, and it's being continued by committed, music-loving area residents. The weekend after Labor Day, the event pretty much closes out the festival season. It takes place in beautiful Glen Maury Park in Buena Vista, Virginia, situated beside the Blue Ridge Parkway and five miles east of Lexington. Though the festival starts officially on Friday, some folks like to extend their trip and arrive earlier. The park is always open for camping, and you may arrive any time.
If you love dancing and old-time music in a mellow setting, Rockbridge is the festival for you. Those who like structure will find plenty to do, while others rarely leave the campground area, choosing to play and visit around the "neighborhood" where a laid-back, low-key air prevails.
Glen Maury Park offers plenty of elbow room and magnificent views of the Blue Ridge Mountains, with rough camping on level grass and available hook-ups. There are inside toilets and showers, with additional port-a-johns. The restrooms and pavillion are handicapped accesible. The Maury River flows alongside for fishing, swimming and admiring. Additional secluded campsites are available up the hill.
Many consider Rockbridge to be the festival with "the highest quality of life."

Come and see.